Well that was a looong time since I wrote my last BLOG, it turns out it shares the same destiny as my METAL SPIKES project. I had the idea for many years in my head after I've done the ICE project on my scooter 11 years ago and wanted to do the same on my KTM bikes. 2 years ago I teamed up with a mad man called Franky Zorn who is actually a world champion of ICE SPEEDWAY racing (yes that's a thing) and it's freakin mental.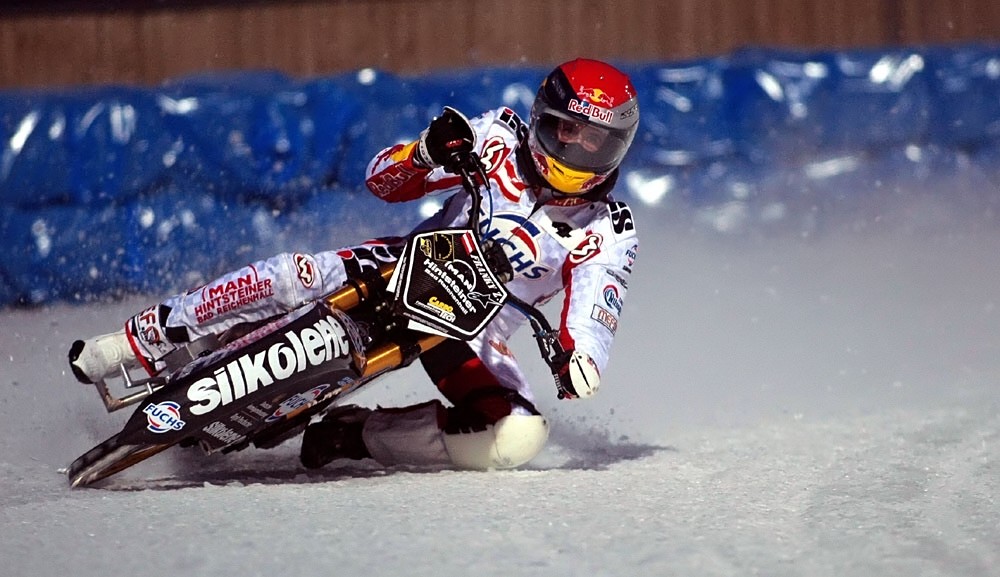 So I called him up and explained that I wanted to put his spikes on my 690 Duke and well… a few days after that we are sitting in his workshop planning how we are going to do it.
I could not believe how much technology and R&D goes into spiking up a tire. Well the spikes go so deep into the ice that they create an extreme grip so you can lay your bike at high speed even on a more radical angle then the MotoGP bikes. All that makes huge pressure on the tires, so based on that you need to prep the tire with more reinforcements (I am not allowed to tell what kind exactly) that prevent the spikes to be ripped out at high speed.
Can you imagine to loose a hardened spike at 150km/h? I would say it becomes a bulett :/
After he showed me how these spikes are made and how to prepare a tire for it, we started to work on my setup  – what kind of spikes I need on my front and on my rear tire, we took measurments and decided on tire options…
That workshop tho, I could easily imagine it like my livingroom, no need for a TV since I could rest my eyes on the bikes for the whole day 😀
After a few weeks the 690 Duke was ready for the first ice test. Well here things got a bit complicated, the winter did not want to come so the lakes weren't frozen and then I needed to fly to Asia for a freestyle tour. In the end we posponed the project to the winter of 2017, when we finally did the test.
Here is some never-before seen footage of me trying out the spikes setup on ICE:
I imagined the whole thing to be easier but to ride fast on ice-it's a whole another world. When you step down to correct your tricks you slip, despite of spikes on the shoes. If you go fast, you see every mistake you did by placing the spikes, the handlebar starts to woble at 120km/h+. Your fingers start to freeze after 10min of riding and always, in the back of your mind, is that if you crash-the spikes will probably cut your leg or hand away.
Despite all these beginner issues I got so much joy to ride on ice, really an epic experience.
2016-2017 was a crazy year for my due to the new Duke models I was traveling the world with KTM to perform on various events, to show the people the coolest naked bike in their city, so there wasn't enough room to focus on that ICE project.
Time passed quickly and we already arrived in September 2018. For the past months my friend, filmer Dominik a.k.a. Head Lens was asking and bugging me that we should do a vlog with the spikes on DIRT. The last thing I wanted to do is to go fast with those spikes and hit jumps, all that on a street bike. Well, he didn't give up and consistently pushed on the right buttons to convince me to do it.
We called up our local MX track here in Slovenia – MX Mackovci  and asked them if we could shoot a crazy vlog on their track. Well long story short – 2days later I was on the starting gate, feeling like Antonio Cairoli 😀
The bike looked straight out of Mad Max movie:
It was a really strange feeling to ride with a street bike on a MX track and on top of that with metal spikes. Each tire had 15kg and you could feel this weight when you tried to jump and it pulled you down besides that you can't slide out of the corners since the spikes have the same effect as on ice – extreme grip.
Somehow I managed to survive and we shot that cool vlog. Well it wasn't on the ICE as planned but we still did a really cool thing 😀
The future plan is to do a METAL SPIKES part 2 on ICE, I just hope it won't take another 2 years to do it 🙂
Photo and video by: Head Lens media